March 5, 2016
We've done some sorting and removal of duplicates from the Poly-Ana Patch Exchange and we've re-zipped them on OSX to fix a problem that cropped up after our OSX x64 compatible versions came out where the unzipped files were showing up as Unix Scripts and OSX's File Open Dialog wouldn't let Poly-Ana and L'il Poly-Ana load them. (You could use 'chmod -x filename' in a Terminal window to remove the executable attribute but we've taken care of that for you now. We still have no idea why this happens or why it only manifested when we started building for x64. If anyone has a clue please let us know!)
OSX L'il Poly-Ana users in particular will find this very good news as they're dependent on others to create patches for them. As well as updating the individual program (patch) and bank file downloads, we've also bundled them all together in a single 1 MB zip download so if you can get it all at once.

January 3, 2016
Congratulations to our 10 winners of SCAMP AU/VST filter effect licenses on our Facebook Page, and a big thank-you to everyone who entered!
To all our new users, welcome aboard! And Happy New Year, everybody! Cheers!
October 4, 2015
Some new updates on the Custom Skins page. Hoverland has updated his "Dusk" skin, and we've updated our "Wide SEM" skin. Both skins now take advantage of the new Custom Skins features in the 1.30 Beta 7 update. As well, new Photoshop and JKnobMan resources are included to help you in tweaking these skins, or as a starting place for building your own.
October 1, 2015
Poly-Ana 1.30 Beta 7 is out and should complete the new Custom Skin system, fixes a few related bugs, and includes a skin that demos a new form of Mod Source dial that's not a dial at all, but rather a small knob that rotates what appears to be a mechanical display cylinder. If you're one of the people who didn't care for the original dial selectors, give this one a try, you just might like it! (And of course you can change them to drop down menus as well if you like. Just click on the product name to bring up the Options Dialog.)
This leaves only the new Anti-Aliasing feature to finish and the Beta will then be complete. So now's the time to get in on our 25% off Buy-it-in-Beta deal! Click here for more details about the new Custom Skin system as well as how you can earn a FREE POLY-ANA LICENSE by submitting skins we use on our site!
August 27, 2015
Congratulations to Limeflavour for this amazing all-original work, available in eight different colors and two different sizes to fit any screen! He wins a Poly-Ana license for his excellent Moderne skin! Send us your best designs and you could win too!

August 18, 2015

Poly-Ana 1.30 Beta 6 completes the new Custom Skin feature, adding customization of the Parameter Display, Program Selector and dropdown Mod Source selector text colors. See our Contest for details on how to win a Poly-Ana license for your skin design and try out our first winning skin, "Dusk" by Hoverland!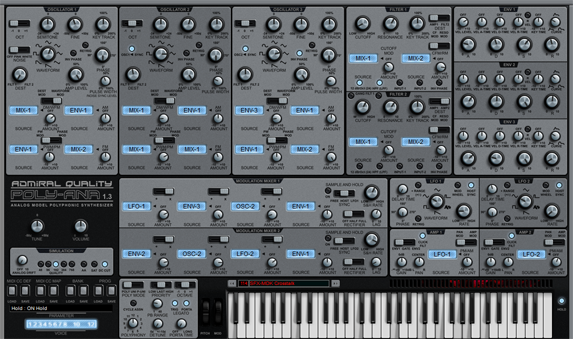 >

July 29, 2015

Poly-Ana 1.30 Beta 5 adds a helpful warning message to remind you if your Custom Skin is missing or hiding any controls. :)

July 28, 2015

A great new song from Poly-Ana owner, Jason Judy of CENTRIC. Jason tells us this song "features the beautiful Poly-Ana instrument prominently on poly brass and synth bass. The instrument couldn't have come out any better in the mix so cheers to great work! ... The only synthesizers you hear which are not the poly-ana is a Shruthi-1 kit which I built and sounds amazing in its own right."

Jason continues, "For this recording I wanted a big epic analog bass sound without the epic price tag. I tried a bunch of the Native Instruments stuff but I could never get anything convincingly analog out of it. I went through a bunch of analog modules in my synth rack as well, minitaurs, mophos, bass stations. They sounded great but didn't give me anywhere near the power and flexibility I was looking for. So I gave Poly-Ana a try and was blown away by how analog it sounded, while still being super stable and not a resource hog like the Arturia stuff. Any thick punchy analog bass I could dream up was now at my finger tips. I've always been a hardware lover and enthusiast but you'd need to start with AT LEAST $3,000 to try and get that kind of tonal pallet from hardware. Needless to say Poly-Ana made the cut for being the bass synth on the lastest CENTRIC recording, and was used for some really nice brass pads as well!"


Great work, Jason! We love it! To hear more music from CENTRIC check out http://centricmusic.com

July 27, 2015

OOPS! There was a bug in the OSX version of Poly-Ana causing it to not load the default graphics if a custom skin wasn't used. Fixed now in Beta 4! (Windows version remains at Beta 3.)

July 25, 2015

BOOM! Another Poly-Ana update to 1.30 Beta 3, adding some new features requested by our users to the new CUSTOM SKIN system. Send us your best skin and if we like it and share it here, we'll trade you a Poly-Ana license for it, for you or a friend (or equivalent credit for you).

July 19, 2015

THIS IS BIG! Poly-Ana 1.30 Beta 2 now lets you make CUSTOM SKINS!

May 9, 2015

We've just released the Beta 1 update in the Poly-Ana 1.30 Beta! We've added what should be the final new control to Poly-Ana 1.x, an Anti-Aliasing feature to continue to expand sound quality options. (Please note that this is still a work in progress but we needed to get this new control added before our next update which will add custom skins -- we didn't want users building skins and leaving out on the new control!) There's also a bug fix on OSX which should automatically create Poly's settings folder. (If you still get the warning message to manually create it, please do so and let us know what host software and OSX version you're running.) The effect version, Poly-AnaFX, and the "Lite" preset-player version, L'il Poly-Ana have also been added to the 1.30 Beta. To help spread the word and get as many testers as possible, during this Beta period we're offering Poly-Ana and L'il Poly-Ana at 25% off the regular price! 50% off until June 21, 2015! We don't know how long this Beta will last (if things go well, we expect it to only be a few more weeks) so act soon to catch this deal.

February 18, 2015

Once again, we're taking Poly-Ana Back to Beta! We've got a (probable) fix to a rare but annoying voice stability bug, and have two big new features coming to the Beta soon!

And... we have a winner in the Vim Cortez remix contest! Congratulations to Scott from Southern California for his awesome Remix of Vim's Better Tomorrow! Scott wins licenses for both Poly-Ana and SCAMP, plus prizes from many other plug-in vendors. Scott tells us, "These two VSTs look like they'll be fun to play with, the synth I think doesn't sound like anything I have so that's awesome!" Thanks, Scott, we hope you get a lot of use out of them!




January 22, 2015

Poly-Ana power-users Vim Cortez have released their new EP and it's seriously awesome! (And chock full of Poly-Ana, Vim tells us "almost all" of the synthesizers on their new EP are our Poly-Ana! That blew our minds because when we first heard it we assumed the analog synths were mostly real. We fooled ourselves!) To celebrate, we're once again sponsoring a Vim Cortez remix contest with a prize of Poly-Ana and SCAMP licenses, as well as lots more goodies from other music software vendors.



Vim Cortez is Vim on lead vocals and guitars, Swanny on drums and vocals, and The Pepz on synths, bass and vocals. Their unhealthy love for 80s synth funk and pop got a black eye from the darker 90s and noughties: the result of this rough encounter they like to call Future Soul.

Vim Cortez can be found on Facebook at www.facebook.com/vimcortezmusic and at vimcortez.com and their new Candy Man EP can be previewed and purchased here:
iTunes
Deezer
Bandcamp
Google Play
December 12, 2014
Poly-Ana and L'il Poly-Ana 1.21 are released!

L'il Poly-Ana is the preset-player, "Lite" version of Poly-Ana. Both products have just finished an intensive 5 month period of "Back to Beta" status, with 5 separate updates released rapidly over that same period, and are now working, stable and well tested on OSX x64 VST and AU, as well as OSX 32 bit and Windows VST 32 and 64 bit (which have been stable for years). Several new features have been added as well, including a new one-time key-file based authentication system (no more asking for new keys when you change or upgrade hardware), full MIDI CC# control of all 210 controls by providing MIDI channel as well as CC# in the MIDI-Learn box (just right-click any control), MIDI Program Change support, Held note memory (particularly useful in the effect version, Poly-AnaFX), and more! These updates demonstrate our ongoing commitment to maintaining and future-proofing our products, while continuing to add to their capabilities.




December 7, 2012

Our congratulations to Orbeatz for winning the Vim Cortez Remix Contest, of his new track, Riviera Coastline, a great song evoking romantic '80s synth-pop, and featuring a lot of Poly-Ana sounds.

February 29, 2012

We've got some exciting new Poly-Ana patches to share with you in the Poly-Ana Patch Exchange. APZX has contributed 32 new Poly-Ana patches in a bank, here. There's lots more patches, always free, in the Patch Exchange. Check it out! And check out APZX on SoundCloud too! Is that Poly-Ana doing trance? Who knew?!?

July 7, 2011

Poly-Ana power user Synth-Project has built a custom hardware controller for his Poly-Ana! We couldn't be more impressed!

Dec 29, 2010

Check out the new Poly-Ana demo video by Mistheria!

"I enjoy working with Poly-Ana... The sound is impressive, I've total control over any parameters... and can make my sound aggressive or mellow... The massively analog approach is the strong point of this stunning instrument!" - Mistheria

Mistheria also contributes two new Poly-Ana demo songs, here. We think these are amazing!

May 8, 2010

Congratulations to Kelvyn Hallifax for winning Vim Cortez's contest with his awesome remix of Just One Ping. Kelvyn wins a full license of Poly-Ana, our flagship virtual analog softsynth product.
In other news, we're back to work on ADT and hope to have it out in Beta very soon. And you can stay up to date with Admiral Quality news on our new Facebook and Twitter pages.
February 24, 2010
Check out this fantastic new synthfunk tune, Just One Ping, by Vim Cortez from his SynthFunkatero album. It's chock full of juicy, wet and funky Poly-Ana goodness!
February 18, 2010
Check out this new L'il Poly-Ana review and demo video by Phatso Brown:
Synth Odyssey Part 5-A Little Poly-Ana: Software gets hard… « Phatso Brown-Straight From The Gut….
Mr. Brown has also contributed a new L'il Poly-Ana demo MP3, Release Me. Excepting the drums and a little added echo, that's 100% straight-up L'il Poly-Ana!
May 8, 2009
Check out the exciting new Poly-Ana backgrounds!
April 21, 2009
Two more new MP3 demos are up on the Poly-Ana page, check 'em out!
Oct 20, 2008
Here's a sneak peek at our upcoming new Windows VST effect, the Analog Delay Tool. It's a mod delay (delay/chorus/flanger) with some very unique randomization and live performance capabilities. Users can select either pristine modern digital quality, or activate the optional tape simulation mode using our proprietary Binary Oxide Model, a process so revolutionary that we don't dare to even hint at how it works!

Coming real soon!
Regular price will be $69.95, but you'll want to jump on this one during our Beta test period to take advantage of our Buy in Beta special price offer of $39.95.
---
Poly-Ana 1.14 -- Windows VST Analog Model Polyphonic Synthesizer
Poly-Ana represents an all new approach to VA (virtual analog) synthesis. If you think you've heard it all before, if you think all VA softsynths sound pretty much the same and lack the power, warmth, crispness and clarity in the mix of the classic instruments, then you owe it to yourself to try Poly-Ana. This one is really different.
In issue 114 (July 2007) Computer Music magazine ask in their table of contents, "ADMIRAL QUALITY POLY-ANA The most analogue sounding synth yet heard?" You can now read the entire Poly-Ana review HERE and see what they conclude!
"There are a lot of VAs out there but Admiral Quality's has the advantage of offering stellar quality at a reasonable price. If you love your analogues, it would be a crime not to experience what it has to offer." - CM Mag.

Poly-Ana is the Computer Music magazine Performance Award winner, July 2007 issue. Review verdict: 9/10
---
SCAMP 1.1.1 -- Windows VST Filter Effect
SCAMP 1.1.1, a "six channel analog model philter" that really nails the vintage sound! If you're into using analog synthesizers as effects processors, have an instrument you need warmed-up or even an entire mix you want to rave-up, then this effect is a must-try. 6 channel capable, SCAMP can be used to process surround-sound as well as the usual mono and stereo tracks. With a host-syncable LFO featuring multiple waveforms, a separate envelope follower on each channel, and full-blown VST automation and MIDI CC support, SCAMP's modulation possibilities are truely vast! From auto-wah type effects to growling audio-rate modulations of the resonant filter, SCAMP captures nuances of real analog filter behavior rarely achieved in software.